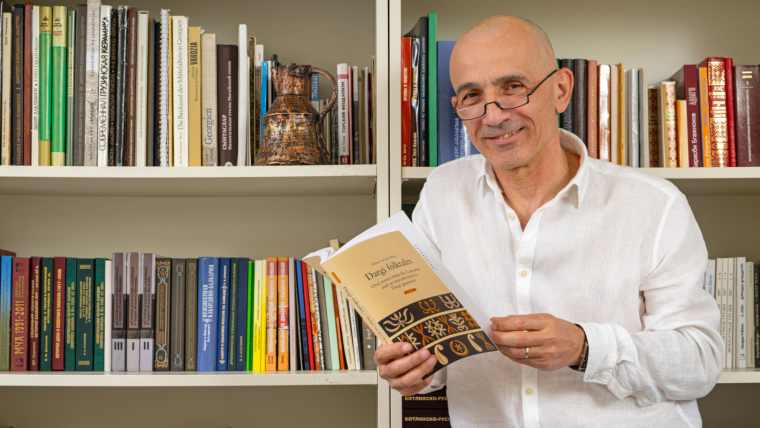 Projektname:
Kaukasisches Erzählgut im Diskurs der vergleichenden Märchenforschung
Caucasian narratives in the discourse of comparative fairy tale research
Projektleiter:
Projektpartner:
Prof. Dr. Diana Forker
Prof. Dr. Friedemann Eugen Schmoll
Zeitrahmen:
2022 - 2025
Förderung:
Deutsche Forschungsgemeinschaft (DFG)
Projektbeschreibung:
Mit dem Phänomen der erstaunlichen Ähnlichkeit der Märchensujets in verschiedenen, sowohl räumlich als auch kulturell oft weit voneinander entfernten, ethnischen Gruppen befasst sich die Vergleichende Erzählforschung seit mehr als zwei Jahrhunderten. Angesichts der universellen Verbreitung des Phänomens ist der Fortschritt der vergleichenden Märchenforschung sehr stark auf die Repräsentativität der ihr zur Verfügung gestellten Daten angewiesen. Jedes durch die einheitliche Arbeitsmethode erschlossenes lokales Märchenrepertoire hilft der internationalen Märchenforschung bei der Antwort auf die folgenden Fragen:
Was sind die authentische Entfaltungsschemata von einzelnen Kerngeschichten bzw. Storys im Märchen?
Welche Hintergründe stecken in den metaphorisch dargestellten Motiven der nacheinander folgenden Märchenepisoden?
Das initiierte Forschungsprojekt soll einige Lücken bezüglich dieser Fragestellungen schließen. Dafür eignet sich das äußerst interessante Erzählgut aus dem Kaukasus in besonderer Weise.
Das kaukasische Erzählgut zeichnet sich besonders durch die bemerkenswerte geographische Lage seines Herkunftsgebiets aus. Die Region gilt seit jeher als der Ort von vielerlei Begegnungen: Hier, auf relativ engem Raum, leben Sprecher von mehr als 50 Sprachen aus fünf verschiedenen Sprachfamilien in dauerhaftem und intensivem Kontakt miteinander. Der Kaukasus gilt als Begegnungsfeld von politischen Großmächten, rivalisierenden Kulturen (Orient vs. Okzident), gegensätzlichen Lebensformen (sesshaft vs. halbnomadisch) und Religionen (Islam vs. Christentum, Paganismus vs. etablierte Religionen). Gleichzeitig stellt er sich aber auch als ein homogener Kulturraum mit gemeinsamen Werten und Institutionen dar (Gastfreundschaft, Blutrache, Schwurbrüderschaft, Ehrenkodex, etc.). All diese Faktoren prägen die thematischen, semantischen und strukturellen Eigenschaften der im Kaukasus beheimateten mündlich überlieferten Folkloretradition und machen sie besonders reizvoll für die vergleichende Erzählforschung.
Das Projekt hat ein übergeordnetes Ziel und drei weitere Teilziele.
Das Übergeordnete Ziel des Projektes besteht in der vergleichenden Analyse und Interpretation des kaukasischen Erzählgutes.
Dieses umfassende Hauptziel gliedert sich in weitere Teilziele:
Digitale Erschließung,
Katalogisierung,
Typologisch-vergleichende Charakteristik der ethnisch-regional geprägten Märchenrepertoires (zunächst einmal der dagestanischen Märchen).
Das übergeordnete Ziel ist sukzessiv und durch den Einsatz der induktiven Forschungsmethode zu erreichen. Das bedeutet, dass auch künftige Durchführungen weiterer Teilprojekte mit der im Rahmen des vorliegenden Vorhabens erarbeiteten Methodologie und digitaler Infrastruktur unterstützt werden. Das vorliegende Vorhaben beschränkt sich zwar auf die wissenschaftliche Erschließung des dagestanischen Märchenrepertoires, stellt allerdings als Kernprojekt alle methodologischen und infrastrukturellen Handhabungen für die Erfüllung des übergeordneten Projektziels bereit.
English version:
The astonishing similarity between fairy tale themes in different ethnic groups – often far apart both spatially and culturally – has been the subject of comparative fairy tale research for more than two centuries. Given the universal distribution of the phenomenon, the progress of comparative fairy tale research relies heavily on the representativity of the data made available to it. Each fairy tale repertoire, which is developed by means of coherent methods, helps answering the following questions with which the international fairy tale research is concerned:
What are the authentic schemes of individual core stories or storylines in fairy tales?
What are the backgrounds of the metaphorically depicted motifs of successive fairy tale episodes?
The initiated research project is supposed to close some gaps concerning these questions. For this purpose, the highly interesting narratives from the Caucasus are particularly suitable. The Caucasian narrative is particularly characterized by the remarkable geographical location of its area of origin. The region has always been considered a place of encounters: The relatively small area is home to speakers of more than 50 languages from five different language families who are in permanent and intensive contact with each other.
The Caucasus is seen as a meeting ground of political powers, rival cultures (Orient vs. Occident), contrasting ways of life (sedentary vs. semi-nomadic) and religions (Islam vs. Christianity, paganism vs. established religions). At the same time, the region is a homogeneous cultural space with shared values and institutions (hospitality, blood feud, swearing brotherhood, code of honour, etc.). All these factors shape the thematic, semantic, and structural characteristics of the oral folklore tradition of the Caucasus and make it particularly appealing for comparative narrative research.
The project has one main goal and three other sub-goals. The main goal is the comparative analysis and interpretation of Caucasian narratives. This broad main objective is divided into further sub-objectives:
Digital indexing,
Cataloging,
Typological-comparative characteristics of ethnical-regional fairy tale repertoires (starting with Dagestanian fairy tales).
The overall goal is to be achieved successively and by using inductive research methods. This means that future subprojects will also be supported by the methodology and digital infrastructure developed within the framework of the present project. Although the present project is limited to the indexing of Dagestanian fairy tales, the core project will provide methodological and infrastructural tools for the fulfilment of the overall project goal.