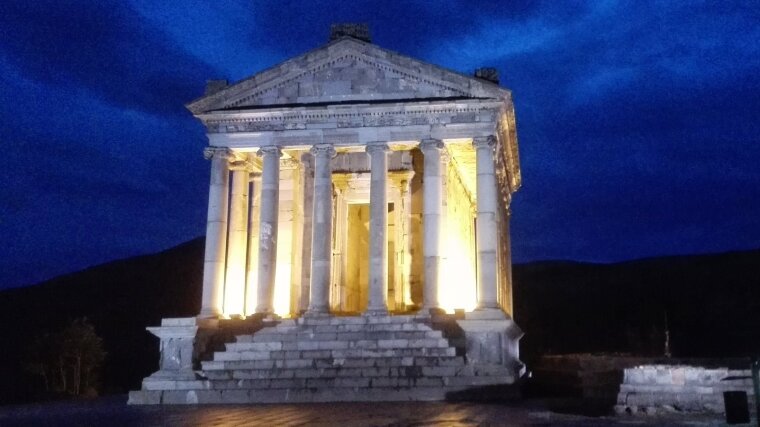 Past events
Temple of Garni (Armenia)
The Institute for Caucasus Studies Jena is continuing the film seminar Kino Klub Kaukasus with a 2021-2022 series on the topic called Contingencies and change in the Caucasus. The seminar features contemporary movies which were produced by young filmmakers from or with relation to the North and South Caucasus. Main themes of the seminar are everyday life, social roles and societal change, labour and socialisation. It is open to students from FSU Jena as well as everyone else interested in the Caucasus. It is a hybrid format and unites virtual and in-person screenings. All screenings are followed by open discussions. 
If you want to be part of the seminar, write an e-mail to: caucasus-studies@uni-jena.deExternal link
Please indicate which session you want to join. The number of participants is limited to 25 for every session.
All sessions are moderated by Tamar Khutsishvili and Veronika Pfeilschifter (Institute for Caucasus Studies, FSU Jena). The banner was created by Johanna Preißler (FSU Jena). 
Our sessions are as follows: 
28 October 2021 (Thursday), 6 pm (CET): No time to retire+A butcher's daughter (by Leyla Ganbarli, Azerbaijan, online, Q&A with director Leyla Ganbarli) 
19 November 2021 (Friday), 6 pm (CET): My Piece of the Earth (by Maka Gogaladze, Georgia, seminar room, Jenergasse 8, FSU Jena) 
15 December 2021 (Thursday), 6 pm (CET): Storgetnya (by Hovig Hagopian, Armenia/France, online) 
20 January 2022 (Thursday), 6 pm (CET): Дзуар, Святое место, Holy place (by Madina Togolokova, North Ossetia, online, followed by Q&A with Emine Sahingöz) 
10 February 2022 (Thursday), 6 pm (CET): The engima of Faina (by Durna Safarova, Azerbaijan, online, followed by Q&A with Durna Safarova)
October 18 - October 20, 2019: Second International Circassian Conference
Caucasus Studies will participate with a session on the Circassian language in the "Second International Circassian Conference" in Nurnberg, Germany, October 18 - October 20, 2019. The conference is devoted to the Circassian history, culture and language and possible ways of preserving, developing and spreading knowledge about the Circassian people and their rich traditions. There will be a special session about developing teaching materials, enhancing the orthography and language teaching and revitalization chaired by Diana Forker.
More information and the cfp [pdf 605KB]External link
June 5-7, 2019, Second International LexCauc Workshop
We hosted the second international LexCauc Workshop. 18 experts of Caucasian languages met in Jena and discussed the lexical database of the Caucasian languages. During the past year they have gathered lexical data of 18 East and West Caucasian languages, which will be included into the database that we are currently building up as part of the LexCauc Project.
The program of the workshoppdf, 388 kb · de
Pictures can be found on our Facebook pageExternal link