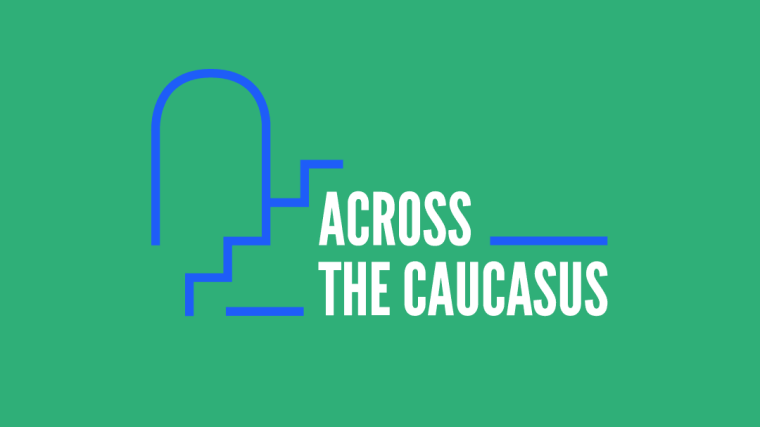 Podcast
"Across the Caucasus"
The podcast 'Across the Caucasus' is a monthly series curated and produced by members of the Institute for Caucasus Studies in Jena, Germany. The podcast aims to disseminate insights on the North and South Caucasus and to provide young researchers a platform to present and discuss their research projects. Furthermore, the podcast wants to digitalize knowledge on the Caucasus. Topics which are represented are politics, social dynamics, history, linguistic and cultural forms.
Episode 1 - Departure

In this very first episode we introduce ourselves and the institute, as well as the head of the department Prof. Dr. Diana Forker and our colleague Dr. Bidzina Lebanidze who both tell us about their research, current projects, and the importance of studying the Caucasus.
Episode 2 - War and peace

In this episode we talk about the war in Ukraine and its possible impact on Georgia. Our guests this time are Liza Shcherbakova who is currently studying in Jena but originally from Kyiv, and our colleague Irena Gonashvili who talks about the Georgian perspective.
Episode 3 - Being left alone (in the Caucasus)?

In this episode we talk about left movements in the Caucasus. Our colleague Veronika Pfeilschifter tells us about the (non-)existence of left political parties in the South Caucasus, and left movements that emerged outside the political party system.
Episode 4 - Iron woman

In this episode of "Across the Caucasus" we talk about language. Linguist Emine Şahingöz tells us about her fieldwork, identity, and how to end up on North Ossetian television.
Episode 5 - Food for thought

In this episode of "Across the Caucasus" we talk about food and identity. Ila Sikharulidze tells us about Abkhazians in the Georgian Adjara region and how traditional foods can function as identity markers.
Episode 6 - Distractions from academia and where to find them

In this episode we talk with interdisciplinary researcher David Leupold. He tells us about his work in the Caucasus and beyond, about the struggles in the academic life and how to find ways to escape it from time to time.